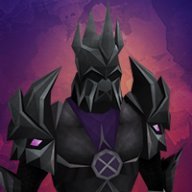 Joined

Apr 24, 2021
Messages

78
Reaction score

111
Points

33
Hello community,
Below you will find newest updates, there is also YT Giveaway that you can participate for rewards. Next update we will focus on clue scrolls and halloween events. We now have newest OSRS cache into the game, but we will wait few more days for OSRS to release halloween event so we can get the latest rewards and add them in the H'ween event!.
GAME UPDATES
Agility shortcut stepping stones fixed
Block activating effigies when using Brawler Gloves
Added Dragon Bolt fletching
Added weapon poison potion for Dragon Bolts
Dragonstone armour fixed stats + equip
Fixed Cow outfit
Fixed Large Spade animation
Ardougne Knight fixed stats
Runefest shield - untradeable + equip fix
Updated game version 667 and OSRS newest revision 199
SQL Fix for Casino when creating new account
Create NPC optimization by not processing NPCs outside the player boundaries
Inventory Item actions will close active Dialogues
Game client optimizations & updated version to 2.12
Note: Some of the updates require server restart/update.
Clue Scrolls (Easy) added missing loot table:
Beanie
Gold-trimmed leather armour
Black platebody (h1)-(h5)
Staff of bob the cat
Red Beret
Amulet of power (t)
Black pickaxe
Large Spade
WEBSITE UPDATES
Updated Item Database
Updated Item images
https://www.forgotten-paradise.org/itemdb/
See you in-game!
FP Team
Last edited: